Which is better: pastel pencils vs colored pencils?

Comparisons between pastels and colored pencils are often seen when artists are looking for the perfect tool. Generally, pastels are softer than colored pencils and easier to blend.
Colored pencils come in a variety of different colors and can produce very vivid colors.
Artists typically prefer one over the other, but it is ultimately up to preference because both tools have their merits and drawbacks.
There are different types of pencils available in the world today. You have your standard, traditional colored pencils and then you have your pastel pencils.
Colored pencils get their color from the pigments that they contain. The pigments used in pastel pencils, however, are not processed by nature and are man-made chemicals.
There is a lot of controversy among artists about which one is actually better. Here is a look at both types of pencils and some pros and cons for each to help you decide which one to buy.

Affiliate Disclaimer: This post may contain affiliate links, which means I will receive a commission if you make a purchase using these links.

What are colored pencils and how are they made?
Colored pencils are a type of pencil used to draw pictures. They can be made from any material, including wood, resin, or waxes.
These types of pencils offer a wide range of colors that are great for making beautiful drawings. Many people use colored pencils for drawing, coloring, sketching, and design purposes.
People use colored pencils for many purposes. The lead is soft enough that it doesn't damage the paper but hard enough to mark permanent marks on it.
Some people use them for sketching, while others prefer to use them for colorizing black-and-white coloring books. Colored pencils are less messy than paint because you don't need any extra materials to complete your project.
Colored pencils are pencils that typically contain pigments. The pigments used in colored pencils are man-made chemicals, which give them their color.
There are a lot of controversies about which one is better, with some people believing that pastel pencils are the superior ones and others saying that colored pencils are the way to go. We will explore this choice conundrum a bit later in this post.

The pros of using colored pencils:
Colored pencils are one of the most popular art supplies today.
They offer many benefits to artists
They are portable
They are versatile
They are affordable
They can create any subject
Colored pencils are perfect for people on the go who need to be able to work with drawing media in a variety of places. This is because they can be used just about anywhere without needing special equipment, like an easel or palette.
The cons of using colored pencils:
They require extra patience for blending and applying colors
They are difficult to erase when you make mistakes
They are difficult to smudge and blend, especially when the paper is saturated.
They are difficult to layer.

The best colored pencil brands
The best colored pencil brands are those that offer a wide variety of colors to choose from. Some brands also offer different types of lead, such as fine or thick lead.
When it comes to choosing the best brand, it really depends on what you're looking for and what your budget is.
But generally speaking, the best brands are those that offer good quality pencils at a reasonable price.
Prismacolor Premier Colored Pencils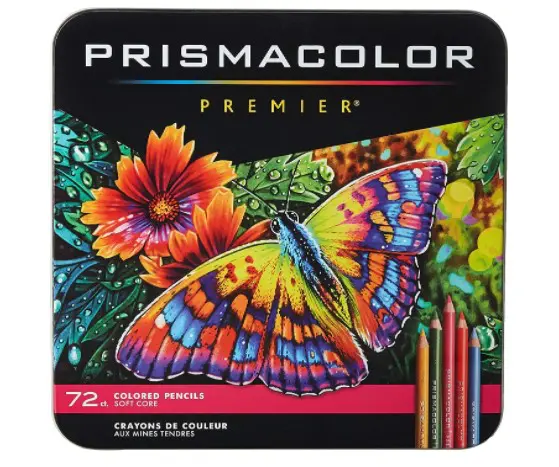 Premium color pencils for artists, designers, and hobbyists of all levels. Prismacolor Premier Colored Pencils offer a high-quality range of shades that are lightfast and richly saturated.
Blend them to create custom colors or enjoy the advantages of reduced breakage with tight round cores. Use them on paper, cardboard, hard surfaces, and more with effortless laydown and sharpens easily to a long point!
Built to perform, these pencils are lightfast, blendable, and long-lasting. The high quality leads glide smoothly across paper and can be erased or blended when desired.
Staples for artists of all skill levels, these pencils will add nuance and depth to any drawing!

Faber-Castell Polychromos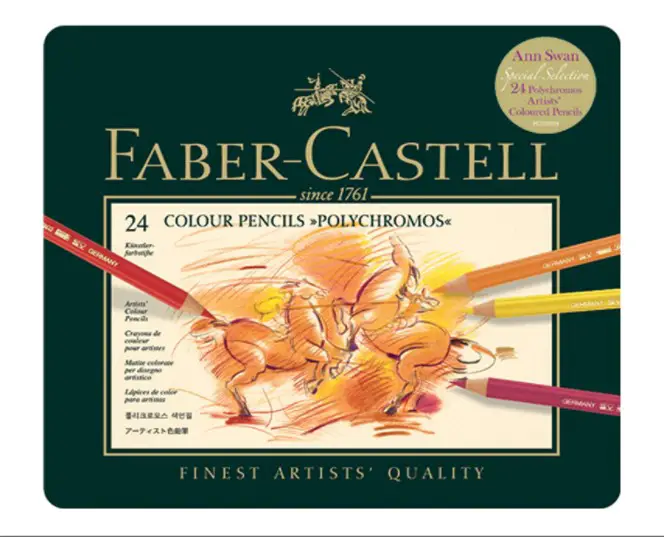 Faber-Castell Polychromos are artist-quality color pencils that can be used on any type of paper. Their fine points allow for control and precision, all while making light work of shading.
They also come in 78 colors like Emerald, Black Gold, Indian Red, and Permanent Green Deep. Faber-Castell Polychromos are available individually or as sets of 12, which use the same color code system for convenience on the go!
These pencils can be used for drawings, sketches, illustrations, and so much more. Colors are rich, and will not fade in the rain or shine.
These pencils represent the best in quality, softness, and color selection. Polychromos is an innovative and meticulously crafted tool for artists who want to create their most imaginative work yet.

Castle Art Supplies 72 Colored Pencils Set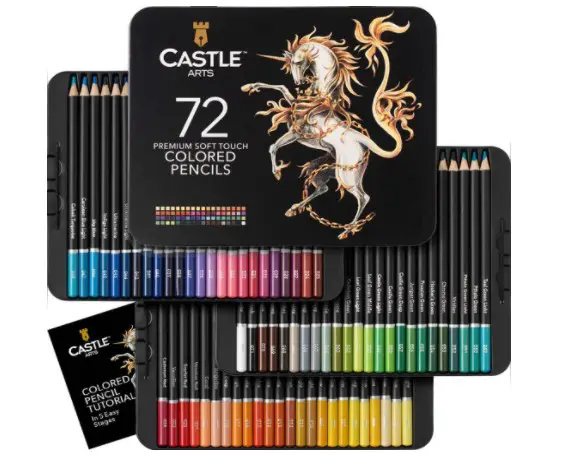 Your imagination is your limit! Castle Art Supplies 72 Colored Pencils Set will take you to a whole new world of creativity.
So many colors, so little time! You can use these pencils to draw anything from realistic images to abstract doodles. These pencils are perfect for those who love coloring books and sketching alike.
The set includes paint-like bright colors as well as gray, brown, and black shades.
Create stunning masterpieces with the help of this Castle Art Supplies Pencils Set. The set comprises 72 high-quality, soft-core pencils, perfect for intricate coloring techniques.
This pack of quality colored lead pencils that are soft, and perfect for adults who want to create vibrant art. They're safe for artists, professionals, and colorists.

Crayola Colored Pencils, Adult Coloring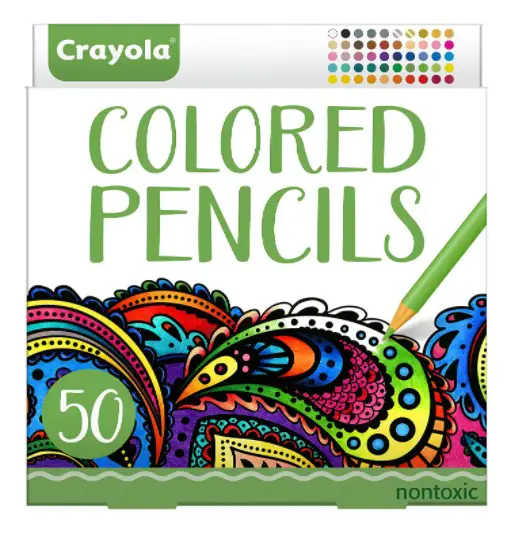 Crayola Colored Pencils are perfect for keen adult coloring enthusiasts who want to achieve the best possible results.
The vibrant colors of these pencils complete every coloring book and art project with stunning color vibrancy.
They're even pre-sharpened, so you won't have to worry about any broken tips! Crayola Colored Pencils also offers an artist's favorite range of wax-based leads, allowing you to become your own creative genius.
Whether you're using one of our personalized coloring pages or a beautiful painting from a popular artist, these pencils will make it easy and enjoyable for anyone!

Derwent Inktense Pencils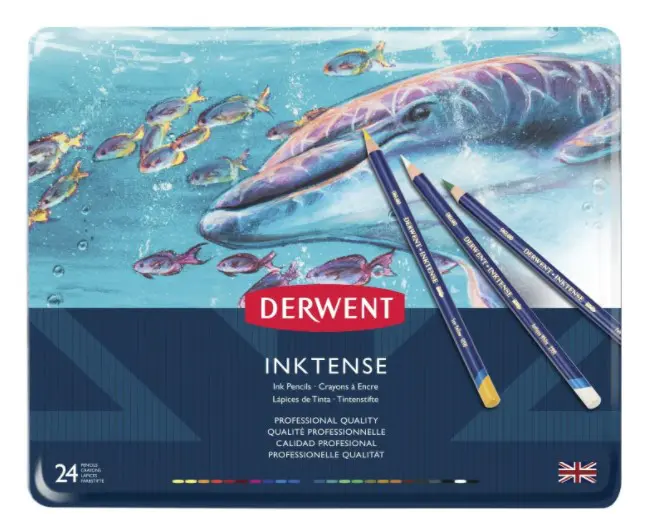 Derwent Inktense Pencils give the best of both worlds: intense, vivid colors that blend and mix like watercolor or paint, plus the versatility of a pencil to draw lines and sketches.
Whether you're an artist who likes to shade in bold colors or just want some quick sketches without having to worry about harsh brush strokes and smudges, Derwent Inktense Pencils will make your life easier.
Derwent Inktense Pencils are not just your ordinary pencils! They give you the ability to use strokes of ink to create strong, vivid tones.
After adding water, this effect will disappear, leaving behind a light aqua-colored tone that looks like it is painting on the page with one of Derwent's watercolor sets.

What are pastel pencils and how do you use them well?
Pastel pencils are a type of art medium, usually used by children or novice artists, that comprises a blend of chalk and pigment. They are the color equivalent to chalk without chalk dust.
Pastels are made from powdered pigment, combined with a binder such as gum Arabic or gelatin, and then ground into a fine powder by grating them against an abrasive.
See video below to learn more about pastel pencils:

The pros of pastel pencil:
They are typically easier to blend
They smudge well
They have a wide range of colors
They are more durable because of the wood casing
They allow great control with color application
They cover larger areas faster than colored pencil
They are better than pastel sticks
They come soft pastel and hard pastel varieties
The cons of pastel pencil:
They require frequent sharpening to keep their point
They produce residue which can ruin other areas of your sketches.
They smudge easily and require fixative to keep image together
They break easily when dropped
They are often more expensive than colored pencil
They can't be erased like some colored pencil
They require specific types of sharpeners to avoid breakage
They require more per project because they get used up quicker than colored pencil

The best pastel pencil brands as recommended by the pros
Caran d'Ache Set of 20 Pastel Pencils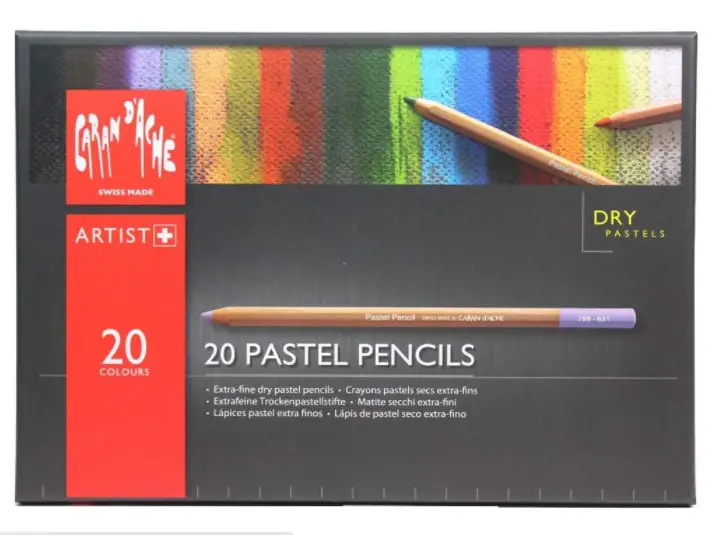 A Caran d'Ache set of 20 pastel pencils is a creative way to get started with drawing. The artwork created will have the most amazing smooth texture, due to the softness of these light materials, and because it's so easy to blend colors together.
The natural coloring choices are perfect for developing newer ideas in art projects or exploring new styles in illustration.

Derwent Pastel Pencils, 4mm Core, Metal Tin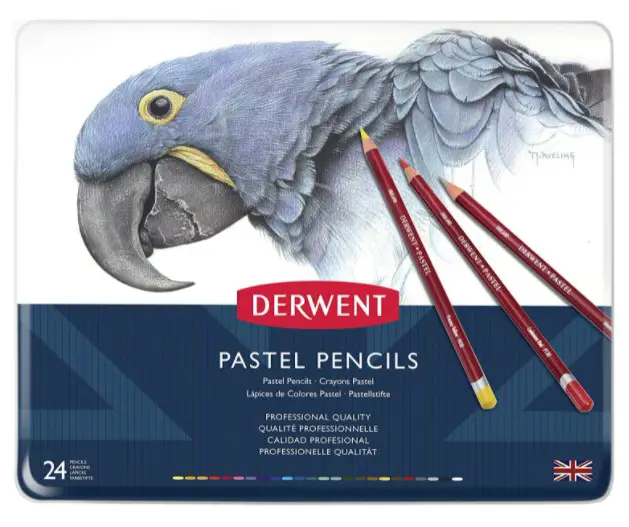 These Derwent Pastel Pencils are a great set of tools for artists who want to explore colors and textures.
Derwent pastels can be easily mixed and blended to create new hues and tints, as well as detailed pastel studies.
These pencils come in a metal tin with 4mm cores that make them easy to use – just sharpen with a sharpener or knife after using up the core!
These lightweight pencils work well on dark paper because they make few marks, perfect for light studies or sketches.
These pencils are soft enough for varying degrees of layering so you can have some fun experimenting while also being easy on your hands!

STABILO Carbothello Pastel Pencil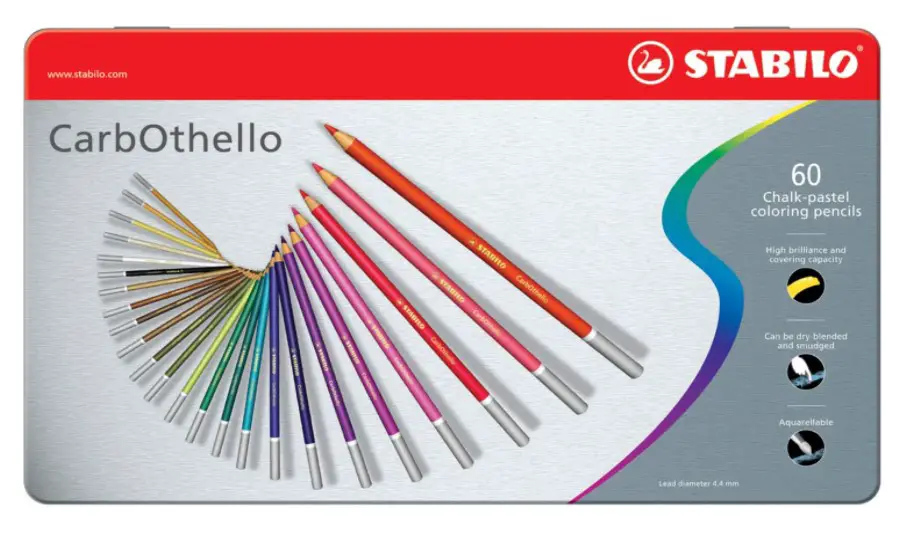 The STABILO Carbothello Pastel Pencil is a vivid and effervescent approach to coloring.
The maximum pigment concentration in these leads provides rich and vibrant colors in a variety of shades, and the leads sharpen to an extra-fine point for detailed effects.
These pencils are perfect for shading, blending, layering, and even repairing mistakes on dark or toned papers or surfaces.
This pastel pencil is a perfectly crisp and color-saturated pastel pencil. Its charcoal-like feel and high pigmentation provide you with the ability to express your creativity in color just like never before.

Cont Paris 2184 Pastel Pencils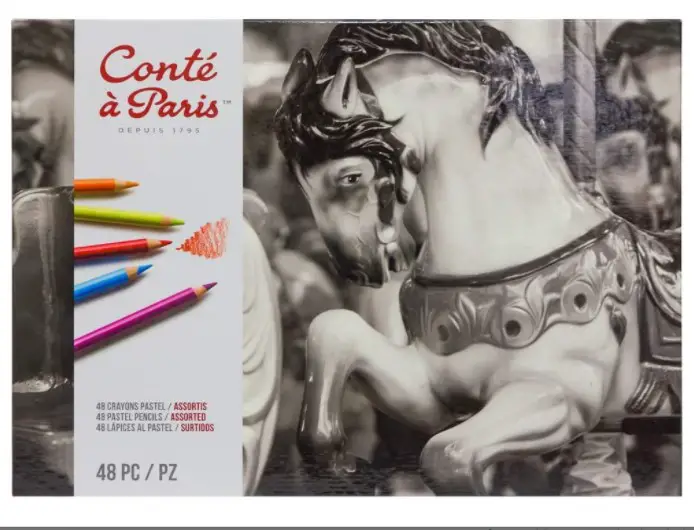 The Cont Paris 2184 Pastel Pencils are a preferable option for detailed, small, or medium-sized drawings. People who enjoy intricate lines and shading effects primarily used these pencils.
Made from pure pigments ground in oil, these quality pastels offer an extremely soft texture that is suitable for even delicate surfaces.
These pencils produce rich hues with depth, enabling artists to create precise textures.

KOH-I-NOOR Artist's Soft Pastel Pencil Set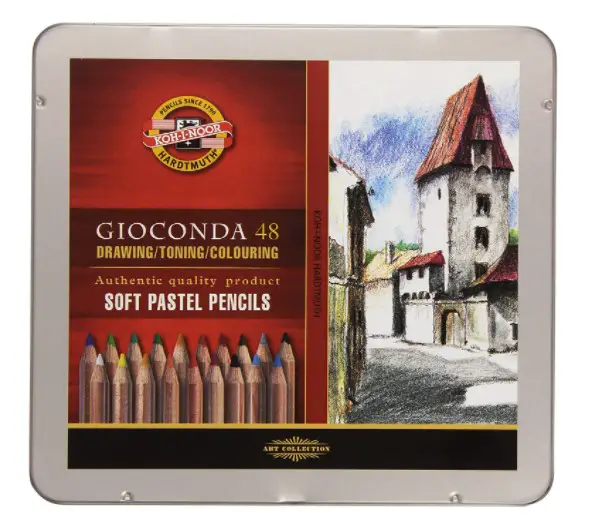 Creamy, intensely pigmented colors are the quality of these KOH-I-NOOR soft pastel pencils. The core is made with rich, hard wax to minimize breakage.
The pencils have a smooth, paper-thin lead that allows for excellent detail work while also being durable enough to withstand semi-hard pressures.
These colors can be blended easily to create new shades or layered on top of each other for an even deeper effect. For those who enjoy working with color, this set provides many options for working on the go!

My concluding thoughts on pastel pencils vs colored pencils
In conclusion, both pastel pencils and colored pencils have a place in the world of art. Some would even say that pastel pencils are a better choice for beginners.
This is because they're more forgiving when mistakes or even smudges occur. Pastel pencils are great for shading because they are much softer than other lead types, and they blend well.
Colored pencils are also great for shading, but their lead is harder, which can make blending and smudge more difficult.
Pastel pencils are more suitable for people who are looking to achieve a slightly less vibrant result. Colored pencils are better for those who want strong, vivid colors.
At this point, we can see there is no one better than the other. Each has its advantages and disadvantages. Your project needs, your skill, and your comfort level with the medium should guide your choice.

Thanks for taking the time to read. I hope you found value in the information shared. Leave a comment below in the comment section below.