The Best Paint Brushes For Miniatures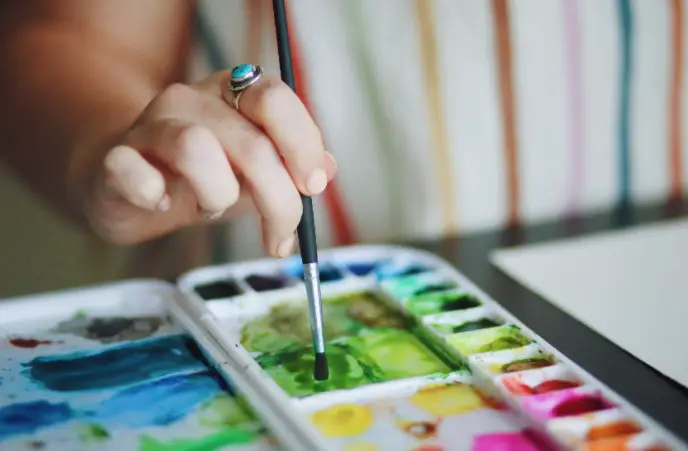 Finding the best paintbrushes for miniatures paintings can be a frustrating and intimidating task. When you first start, it might seem like painting is all about choosing the right paint and brushes, adding the right colors, having enough time to thin your paint, etc. But that's just the tip of the iceberg.
You also have to choose which type of paintbrush will work best for you and your project. There are lots of choices to be made between paint sets and brush sizes.
You will have a choice to make between cheap brushes and expensive brushes. Between brushes with ergonomic handles, brushes with synthetic bristles, and brushes with animal hair.
With brushes, they're not all created equal and some certainly don't hold up to the pressure or tiny details you want to achieve with painting miniatures. Here are some tips for finding the best paintbrush for your miniature painting project.
Affiliate Disclaimer: This post may contain affiliate links, which means I will receive a commission if you make a purchase using these links.
Miniature paint brushes: bristle types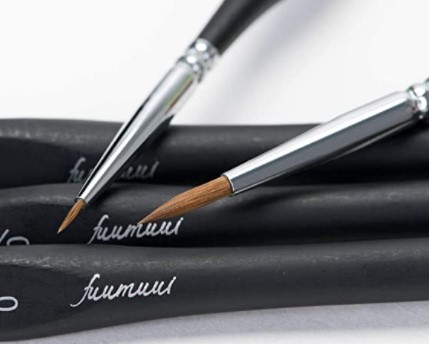 There are many types of paint brushes for miniature projects, but the most popular ones are likely made of synthetic or natural bristles.
The type of brush you choose is going to depend on your preference, what surface you plan to paint on, and what type of paint you plan to use.
The best types of paint brushes for miniatures are round, synthetic brushes. These brushes allow the user to have more control over the fine details of their miniature.
Synthetic brushes are also better in terms of durability and quality because they are less prone to shedding bristles when painting miniatures.
When painting miniatures, it is important that the paintbrushes are soft enough to allow for a seamless application.
There are many types of paint brushes available, but a few considerations to keep in mind include size and type of bristles.
For instance, miniature painters should pay attention to the type of bristles on their brush, as this will determine if the brush can hold a lot of paint or if it breaks down easily.
It is important to find the right paintbrush for the task. A good way to start would be to purchase a few different brands and see which one suits your style best. You can start off with the reasonably priced ones. They are lots of options available on Amazon.
How to choose the best paint brushes for miniatures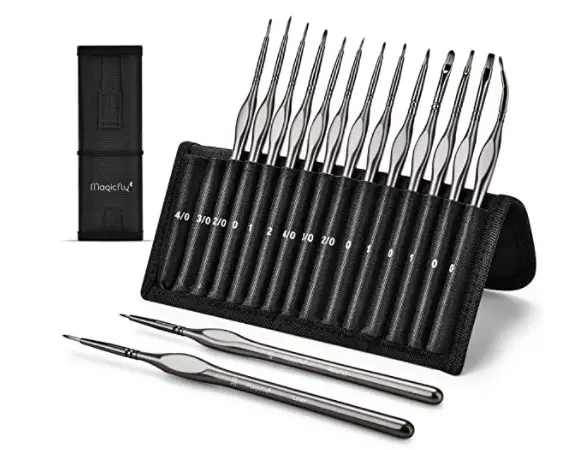 The first step is to decide what type of paintbrush you need for your next project.
There are many types of paintbrushes you can use for painting miniatures, but they differ in sizes, shapes and bristles. You should consider the following when choosing a paintbrush set:
Size: The smaller the bristles, the finer detail they will be able to paint
Shape: Painting thin lines on a miniature with a chisel brush could be difficult for some people because it will take more time to get those crisp lines. With a round brush, you can create thin lines more easily.
Bristle type: Some brushes have short bristles and others have long bristles. Your miniature is likely to need short bristles for its small scale and finer details, while some long and chisel bristles might work better for larger surfaces where you want to cover a wider area quickly.
Texture: Some paints require light textures, while others require thicker textures. If your miniature requires thick textures, then look for a flat or round brush that has soft bristles.
Ergonomics: Brush ergonomics design is an important consideration when choosing brushes for your miniature project. proper ergonomics allow you to easily grip and use your brush with comfort.
Which are the best paint brushes for miniatures for your miniature project?
First, you want to make sure that you're painting the style of miniature that you want to paint. Some people prefer a thick and wet paint job, some like a thin and dry brushstroke, and some like to mix it up.
If you are unsure about which is the best paint brushes for miniatures to use for your project, ask yourself these questions:
What size of brush do I need?
What kind of paint will I be using?
Will I be using a lot of fine detail?
How much time do I have?
Once you know how long your project will take and what size paintbrush is needed, it's time to shop around for the best quality brushes on the market.
Here are some factors that should help make your decision easier:
How many coats do I need per base coat?
How detailed is the miniature that I am painting?
Do I need my brush to move quickly or slowly?
Does my miniature have any other details that would require an ultra fine point or tiny hairs on my paintbrush head?
Once you have your answers to the about question, now you can explore some choices of paintbrushes for your project.
10 best brushes for miniature painting
Paintbrushes are an essential part of any miniature painting kit. They come in a wide range of shapes and sizes, and finding the right one can drastically improve your painting experience! These are some features and considerations to keep in mind when choosing brushes for miniature work:
Triangle handles
Fine tips
Different sizes
Able to maintain the original shape
Knowing when to use cheap brushes
Knowing when to use expensive brushes
Taking good care of your brushes
Knowing what painting techniques to use
Knowing when to use micro brushes
Know which is the best oil paint for your project
The brush is one of the most important aspects of miniature painting as it can apply paint and help control areas. In this list, we have some of the best paint brushes for miniatures for your miniature painting projects, from those that are simple and inexpensive to those that have special shapes and coatings for specific purposes.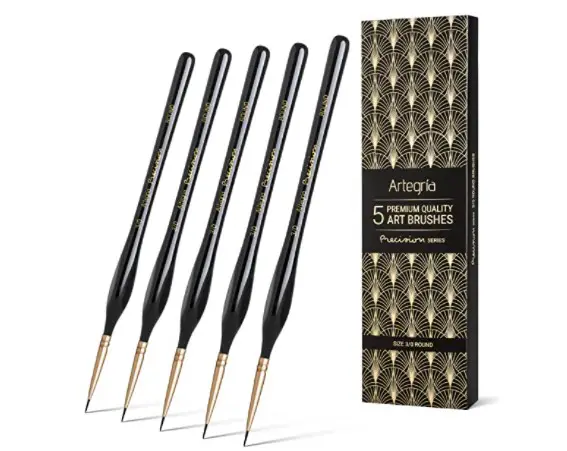 The Winsor & Newton 5012001 Miniature Brush is a tiny paintbrush for small detail work. It helps seamlessly blend and control fine, detailed artwork with precision. The tapered synthetic hairs allow this miniature brush to create precise strokes that can be used on delicate surfaces such as ceramic pots, figurines, and even hair! This miniature paintbrush is also great for detailing tasks such as painting intricate nail designs or drawing intricate tattoos.
Every Winsor & Newton Series 7 Kolinsky Sable Miniature Watercolor Brush is made from a single pure black hair, which is carefully graded and sorted for length.
The tip of the brush can be used to paint fine lines and small areas because it retains a sharp point which makes them some of the best paint brushes for miniatures.
They are perfect for delicate work on an uneven surface, such as watercolor paper or canvas boards.
There are plenty of uses for these little brushes; use them in tight spaces to reach hard spots, or when you're painting a tiny point.
The conical-shaped brush head doesn't let paint accumulate in the head, which is great if you want to achieve that fine detail.
Nipro miniature detail paintbrushes are an excellent painting accessory for both intermediate and experienced artists.
These 7 micro professional small fine paintbrushes offer a range of applications from detailed work in watercolor, to precise brushstrokes in oil, to broad areas in acrylic. This set is a great investment that will last for years and can be used on multiple different projects!
The Nicpro MG018 Miniature Detail Paint Brush Set is a comfortable and practical alternative to the classic, straight handle. Their triangular shape fits wonderfully in your palm and reduces hand fatigue during extended use. Seven layers of UV coating provide durability and easy cleanup.
The da Vinci Brushes 5359 Watercolor Brushes are excellent for watercolor, gouache, illustration, animation, restoration, and rendering. These are some of the best paint brushes for miniatures. The brushes are versatile and can be used on almost any surface.
At 40% smaller than traditional artists' watercolor brushes, they've been specially designed to paint with precision in tight areas or small-scale detail work.
Sujeet Synthetic Painting Brushes are comfortable paint brushes for acrylic painting. This 15-brush set is perfect for any art project, big or small! They label each brush with what they are best for, so you don't have to search through the box to find the one you need. The bristles of these synthetic brushes won't warp like traditional paint brushes and will be easier on your artwork.
Do you want the best tools to paint with? D'Artisan Shoppe Miniature Brushes are perfect for highly detailed arts and crafts projects. These brushes come in different shapes and sizes, so they'll appeal to any size project you may work on.
And because these products are handcrafted by experts, they're made to last and keep up with your fast-paced creative work!
The Army Painter ST5113 Wargames Mega Brush Set is a set of 10 high-quality brushes, each with different uses.
For instance, the detail brush offers smooth coverage when painting intricate designs or fine details on miniatures. The tough bristles are perfect for putting the finishing touches on your models with thin coats of paint—great for dry brushing!
Do you need a brush to make your next art show masterpiece?
If so, POTOK Fine Brush Set is the perfect option for you. This set includes 15 pieces of high-quality brushes with different shapes and features, which are suitable for any fine art style. The ergonomic handles ensure the comfortable use of these brushes.
Kolinsky Sable is the finest natural brush hair. These brushes have bristles made with premium kolinsky sable hair, which makes them hold a perfect point. They are durable enough to use with oil or acrylic paints, and they are just as capable of delicate detail work when used with watercolors, inks, or gouache.
For professionals, hobbyists, beginners, adults, and kids this is one of the best paint brushes For miniatures. Quality paintbrushes for any project. These are essential tools in any art studio. The exquisite design and excellent quality make them perfect for various purposes!
A mini brush set can be a wonderful investment for any miniature painting enthusiast. There is a brush out there for every type of project, from detailed work to simple projects. Try experimenting with different types to see which one you enjoy the most.
To explore even more possibilities, check out other miniature brush sets on Amazon.
What kind of miniature painter am I?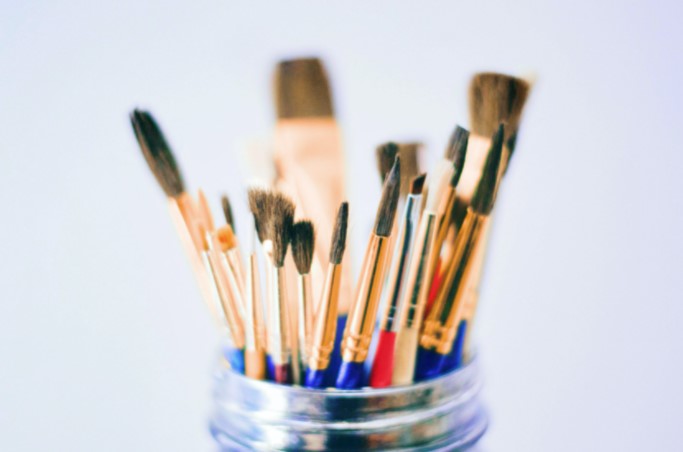 If you're not sure what kind of miniature painter you are, ask yourself the following questions.
Do I want a brush that is flexible and able to make detailed shapes?
Do I want a brush that has bristles made from synthetic fibers or natural hair?
Do I want a brush with short or long bristles?
Do I need to paint with dry paint, oils, acrylics, or watercolors?
Do I have an aversion to cleaning paintbrushes?
Am I an artist who likes to use different colors on my miniature painting project?
You must know the best paint brushes for miniatures that will work well with your next project. What kind of miniature art do you want to create? And what are your favorite subject matters and projects? There are many styles in miniature painting, projects, and activities, find your niche and master it.
What kind of painting are you doing?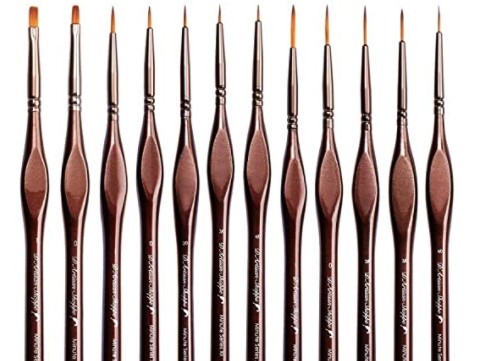 Artisans who paint miniatures are an eclectic bunch. Some enjoy painting landscapes, portraits, animals, or still life. Others might find themselves more inspired by vintage advertising art or the characters of Harry Potter.
Whatever inspires you to pick the best paint brushes for miniatures to create beautiful works of art, the experience will be a rewarding one for you. Miniature painting is a relaxing hobby that can be taken up at any time in life!
There are different painting projects and paintbrushes:
Paint brushes for acrylic paints
Paint brushes for oils
Paint brushes for inks
Paint brushes for watercolors
Paint brushes for tempera
Type of paints for your miniature activity
If you're new and not sure what type of project you'll be tackling, here are two good ideas: acrylics or oils. Acrylics are great because they dry quickly and don't require a lot of thinning, and you can use a variety of colors. Oils work well with the same basic rules as acrylics.
Acrylics or oils
The experience of painting a miniature is meditative. The artist will often find themselves in a trance-like state while they paint, and may even forget what time it is.
Acrylics and oil paints are two types of paint that work best with the best paint brushes for miniatures and they can create a range of effects, from soft pastels to vibrant tones.
Each has its own pros and cons, so the artist should consider which type to use based on their preferences and intention for the painting.
Once you choose what type of paint you will use on your miniature, ensure you have a suitable brush. In the list of recommended brush sets shared earlier, you notice that there are some sets that say idle for watercolor, oils, and acrylics.
There is a reason for this. Each paint type would require a different bristle type for optimum results, so ensure you choose appropriately. So prudent to use a brush that is made for the specific type of paint.
How much time do you have to spend on your miniature project?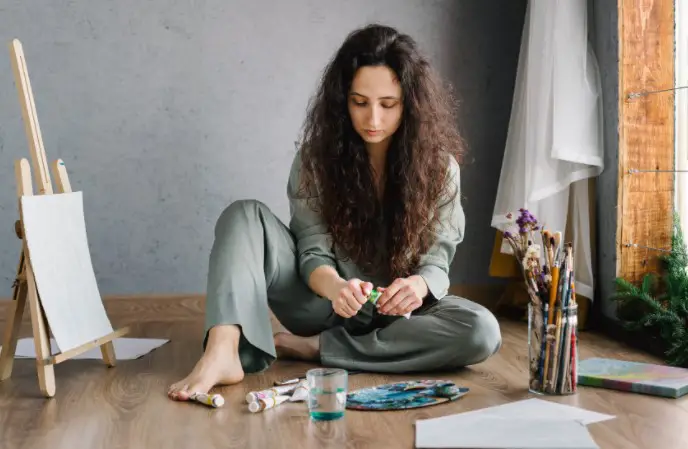 Many artists make the mistake of focusing on their miniature projects for too much time. This can lead to excessive frustrations and feelings of disappointment.
It is not always easy to complete a miniature project. For example, some artists can spend 30 hours painting a miniature figure just to get the desired effect. It is important to find the right balance of time spent and creativity exerted on your project.
The key to successfully completing these projects is to set an appropriate amount of time for working on the project, and then stick with it until it's done.
The first thing you should do is consider how much time you have to spend on your project. If you only have one or two hours to work on your miniature, you'll want to choose a brush and type of paint that will allow you to paint quickly and efficiently.
Miniatures are a lot of fun to work on. They provide a creative outlet for everyone, from beginners to experts.
But how much time do you have to spend on your miniature project? Here are some tips on how long you should put into your mini-masterpiece, based on the type of project you would like to do.
I'm sure that there are many hobbyists who feel that they don't have enough time to finish their miniature projects. However, according to professionals who work with miniatures, you just need to allot more time than you typically do for other tasks.
One expert recommends using a timer and setting an alarm every 90 minutes. The extra time will allow you to focus on the specific steps that need to be taken for your project with no distractions.
When it comes to using paint brushes for miniatures, there are a wide variety of brush types and sizes. Knowing which brush is best for the job can help you paint fast and with minimal effort- especially when you're in a pinch.
Paintbrushes come in many shapes and sizes, and the type of brush that's best for doing one task may not be perfect for another. As you become more seasoned, you will know what works best for you.
Where will your miniatures be displayed?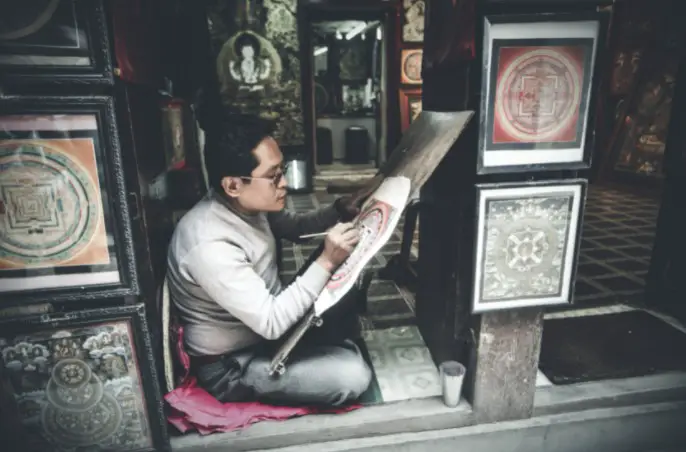 It is a question that many miniature enthusiasts ask themselves when they complete their miniature masterpieces: Where will I display them?
This is a troublesome question to answer, but it is important to decide on an area that will meet your needs and best suit the miniature.
How you display your miniatures painted project is up to the creativity of the artist. There are many creative ways to show off what you have created, and where your project will be displayed can be an important part of the process.
Do you feel like your miniatures are hidden away at the back of your closet? Is your workspace cluttered with paintbrushes and tiny pieces of unfinished models? Maybe it's time to take your hobby to the next level.
There are many ways to display your beautiful miniature works of art. For example, an office desk or table is a great spot for showing off your work. A shelf in the living room is another great option for displaying your creations.
Deciding where your miniature will be displayed is an important decision. In addition to the size of the miniature, you'll have to think about whether it will be displayed on a shelf or hanging from a wire.
Final Thoughts on Best Paint Brushes for Miniatures
In conclusion, there are a lot of things to consider when purchasing The Best Paint Brushes For Miniatures, but some options will work better than others.
Paintbrushes have many unique attributes, which will determine the best type of brush for you. Remember to consider your budget, what you plan on painting, and if you want a more precise brush tip.
We hope this guide has been helpful in determining the best paint brushes for miniatures to suit your needs!