Mungyo Gallery Artist Soft Oil Pastel Sets
Mungyo Oil Pastels are high-quality professional pastels with superior blendability. They are a great way to get the most vibrant colors.
The oil pastels don't require any additional fixative and they can be used on almost any surface. What's even more amazing is that they are very affordable.
Affiliate Disclaimer: This post may contain affiliate links, which means I will receive a commission if you make a purchase using these links.
Mungyo is a Korean manufactured oil pastel with outstanding smooth touch and consistent colors. This is an ideal artistic medium for sketchers and professional artists alike.
It's easy to store and carry and comes in a variety of 48 different vibrant colors with a richly pigmented quality that's strong enough to produce opaque coverage when used on light-colored paper or board.
Beginning with the perfect consistency, you can be assured that these oil pastels will not easily break or crumble.
The oils are exceptionally long-lasting and allow for easy blending. Mungyo Gallery Artists' Oil Pastels come in a wide range of colors, so there is one to suit anyone's creative needs.
Outstanding Features of Mungyo Oil Pastels
The Mungyo brand of oil pastels is known for its superior performance and high quality. Here is a list of a few outstanding features:
professional quality
intense colors and high covering power 
ideal for techniques such as impasto and scraping
smoothness allows for an accurate representation of images
low-residue means less messy work
meet the requirements of professional artists
creamy not chunky 
odorless
excellent blendability
vivid colors
great value for the price
blends easily with a finger, cloth, or stump
worked nicely for sgraffito
good coverage
great for beginners and pros
Are Mungyo Oil Pastels Non Toxic?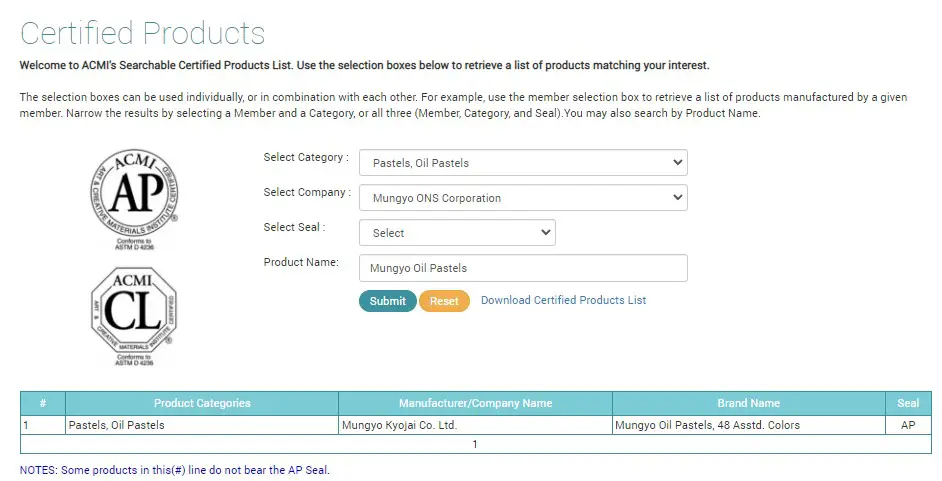 Mungyo Oil Pastels is an ACMI Certified Product
Did you know Mungyo oil pastels are non-toxic? The Mungyo brand is certified by The Art & Creative Materials Institute, Inc. (ACMI). ACMI is an international association of over 200 art, craft, and creative material manufacturers which seeks to promote safety in art and creative products through its certification program.
Unlike other pastel brands, this type of pastel does not contain any toxic ingredients. They differ from regular pastels because they are made using a combination of natural oils found in plants and mineral waxes.
These materials make the colorful pigments used in the pastel stick to paper without crumbling or smudging. This type of paint looks great on both white and black paper.
Mungyo Gallery Oil Pastels Review & Artwork
Naomi Couture Art did an art product review of the Mungyo Gallery Oil Pastels. She shared her opinion about whether these are the best oil pastels to buy.
In this art product review, she used the Mungyo Gallery Oil Pastels set of 48. What to know if this is a great affordable oil pastel set or one of the best oil pastels for students or professionals?
Watch the review of this product unboxing to find out below:
Mungyo Oil Pastels Pigment Quality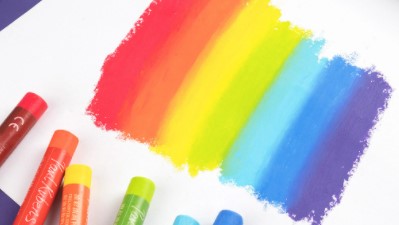 Pigment quality is a measure of how much light the pigment will absorb. The higher the quality, the greater amount of light that is reflected.
Pastel colors that are deemed to be high quality will appear vibrant and lively while those with low quality will appear muted or grayish.
These oil pastels have intense colors and high covering power which are ideal for artists who are looking for more richness in their finished pieces.
Mungyo Oil Pastels Layering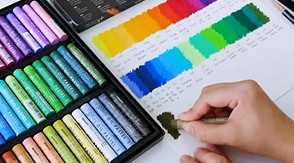 For the masters, pastels are known for their ability to layer. They capture the light in a gray sky and the brightness of a green grassy meadow with varying degrees of pigment.
Pastels can be layered on top of each other without picking up too many of the colors underneath, which is incredibly useful for creating sunsets and sandy beaches.
This technique allows you to create amazing pieces with only one color palette.
Mungyo Gallery Artists' Oil Pastels are of professional quality, with outstanding smooth touch and consistent colors which lend themselves to excellent layering.
Mungyo Oil Pastels Blending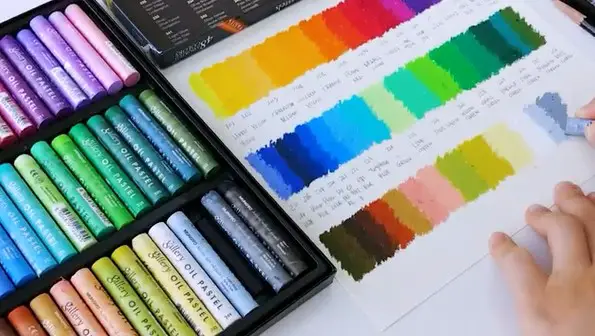 Pastel blending is a technique that involves using pastels to create shadows and highlights. It is achieved by starting with the lightest colors on the paper surface, then adding darker shades to build depth and dimension.
Blending is usually done with fingertips or tortillon (a French word for "small handkerchief") but can also be achieved by using fingers or an old rag for larger pieces of paper.
The Mungyo is known for its smoothness and low residue quality when applied to various surfaces. It is versatile enough to use with varying pastel drawing techniques such as impasto and scraping.
Mungyo Oil Pastels Lightfastness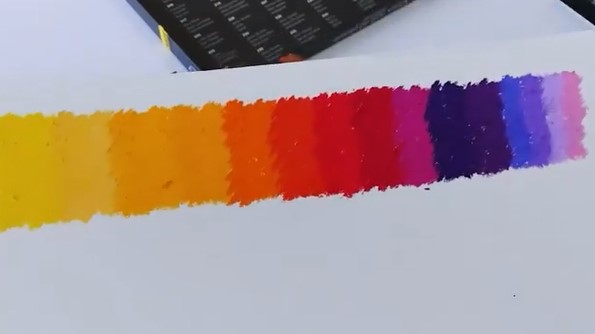 What is lightfastness and why it is important?
What is lightfastness? Lightfastness is the property of a pigment that determines its resistance to color change under the influence of light.
It is usually expressed in hours or days, depending on the pigment type. One downside is that some pigments with low lightfastness also have poor tinting strength, which can lead to an inconsistent color when mixed with other colors.
According to a number of reviews on Amazon, users have professed the exceptional lightfastness of the Mungyo oil pastel.
Mungyo Oil Pastels Range of Colors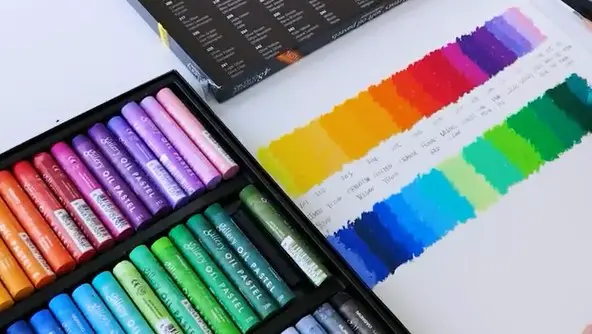 Mungyo Gallery Soft Oil Pastels Set of 48 assorted colors, is a premium-quality pastel set that provides a wide range of color choices to meet the individual artist's needs.
The set comprises the standard colors, including black, white, and all twelve hues found on the color wheel. There are also some specialty colors that would be great for design or just to experiment with.
My Closing Thoughts on Mungyo Oil Pastels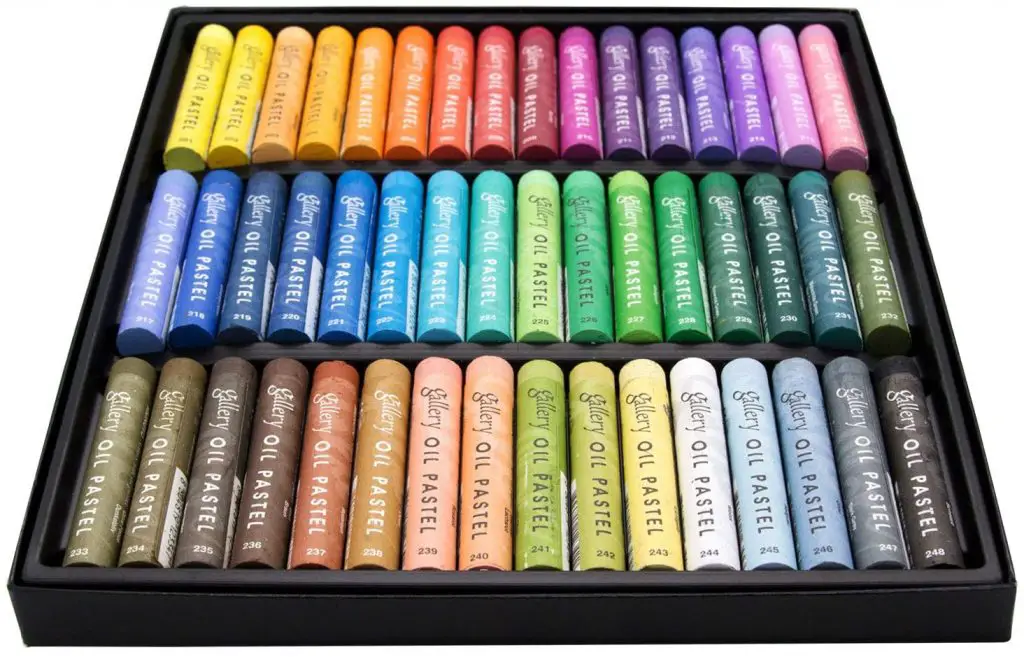 In conclusion, Mungyo Oil Pastels are a great quality product that can be used for many artistic projects. Mungyo's professional standards are evident in these pastels.
They provide artists with the opportunity to produce vivid colors and offer a wide variety of textures because of the versatility of the pastels. These pastels also contain no powdery residue and are easy to use.
Mungyo Non-Toxic Oil Pastels is an ACMI Certified Product that's perfect for the artist who is looking for a non-toxic option to work with. These pastels come in an assortment of colors and children and adults alike can enjoy them.
Have you used this brand of oil pastels before? Share your experience in the comments sections below. It will go a long way in helping others make an informed decision.